Welcome!
Thanks for checking out the internet home of the All In Clayton Coalition, a community organization of parents, teachers and students to working with the School District of Clayton.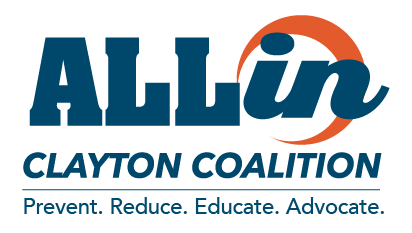 Key Objectives
The mission of the All In Clayton Coalition is to keep Clayton youth safe from the effects of substance abuse. Our key objectives:
Prevent substance use among Clayton youth
Reduce the prevalence of substance use disorders in Clayton
Educate the Clayton community on key issues related to substance use disorders
Advocate for policies and practices that prevent substance use among Clayton youth
Taking action
We carry out our mission in multiple ways:
Monthly meetings to plan and support awareness in the community.
Speaker series: We bring in experts to help parents navigate the teen landscape. Bring your questions, and get involved!
Awareness campaigns: Yard signs, fliers, and social media to promote a community-wide message of healthy choices, especially during homecoming, prom and graduation season.
Student events, such as De-Stress Day during finals, to help teens blow off steam and find creative ways to manage pressure.
You can help!
Share your time and talents:
Education & Events Committee: Lead educational efforts and events to engage and educate the community in the mission of the coalition.
Student Committee: Enhance student leadership in addressing substance use disorders issues impacting students
Outreach & Advocacy Committee: Work with the school district to increase Coalition participation and focus on policies and practices. Advocate for legislative policies at the state and local level.
Communications Committee: Spread the word about events and efforts of the Coalition through multiple media channels.
How you can get involved
Catch up with us on social media or get on our email list. We want to hear your ideas! Come join us at a meeting or email us with questions.